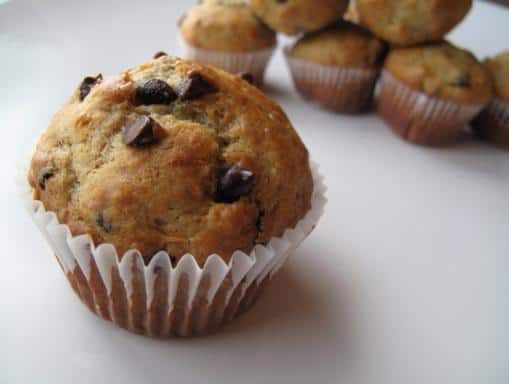 Update: Health kick still going well… scales aren't entirely reflecting it yet, but I am still optimistic!
I wanted to share with you all this low-fat recipe for muffins (perfect for school lunch boxes) and perfect when you feel like something a little sweet (it has less than 5gms fat and I don't include ANY sugar but the recipe itself only calls for 1/3 cup over 12 muffins)
Ingredients
2 cups self-raising flour (you can use wholemeal flour for people with diabetes or if you simply want an ultra healthy alternative)
1/3 cup caster sugar
100g dark choc bits (you can use less than 100g to add to the 'healthiness')
2 small ripe bananas
1 egg
60g reduced fat margarine
1 cup skim milk
Method
Preheat oven to 210 degrees C.  line a 12 hole muffin tin with muffin cases.  Sift flour into a large bowl, stir in sugar and choc bits.  In a separate bowl, mash the bananas, stir in egg, margarine and milk.  Add to the flour mixture, stir until just combined.  Spoon into muffin pan and bake for 15 mins or until golden brown.
Makes 12
Enjoy!