My husband and I were looking to watch a new series since all our favourites are on hiatus for the American Summer.  We decided to watch Mad Men, currently at Season 5 in the U.S, we had some catching up to do.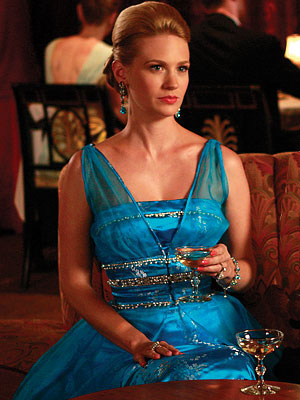 You know you are slightly obsessed when you start asking your hairstylist for the 'Betty Draper- Francis' hairstyle… consider me obsessed. I love this series.  Okay, sure it is set in the 50's/60's (my favourite era for those of you that don't know) and everyone is super glamorous and the fashion is ah-mazing and I am drawn to Don Draper but the acting is incredible and the story line is exciting.
I want to time machine myself back to that era, I find myself wanting to cut my hair and wear the cat eye sunglasses and dress in capri pants and drink old fashions and wear gloves and flick out my eyeliner… I take it you get my drift… I want to live that!  Lucky for me Wheels and Dollbaby are exactly catering to my current tastes.
So a big thanks to Grace for giving me the 'Betty Draper' on Saturday night but I will be laying off the old fashions for a while.
StyleCrush will be on vacation so you may see posts sporadically .  I will be bringing lots of cool images to our facebook page and to our instagram page so make sure you follow along!
Ciao for now xx